03 Apr 2020
#YouAreHeroes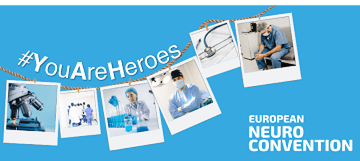 The NHS employs over 1.4 million people in the UK and the Social Care Sector hires a further 1.6 million people. An additional 65,000 retired doctors and nurses have been contacted by the Government, urging them to return to work. These are frontline, key staff that are working day and night to support and take care of our loved ones during this unprecedented time.

Showing our support

The European Neuro Convention wanted to show support and appreciation to the health, care and support workers on the frontline during the COVID 19-Coronavirus pandemic by building an online community though the #YouAreHeroes Campaign.

The aim of this campaign is to connect all those working in high-risk health, care and support roles including NHS workers, care providers and other health social care providers with the view to:

· Combat loneliness and stress for health, care and support workers

· Raise awareness and appreciation of the difficult but incredible work health, care and support professionals are doing at this unprecedented time

· Facilitate conversations between those in similar positions

· Show our appreciation for all your hard work


Join the Campaign

Participation in this campaign is greatly encouraged, please use #YouAreHeroes on social media as you share;

· Advice to health, care and support workers such as how to cope mentally or good technology that allows you to keep connected

· Words of encouragement – either by video, a quote or a photo

· Resources you think may help

Let's work together to build a community that helps our key workers in the fight to tackle the coronavirus outbreak.

Follow the campaign on social media at @NeuroConvention #YouAreHeroes