07 Oct 2020
Neuro and COVID-19: How a pandemic impacted neurology and its patients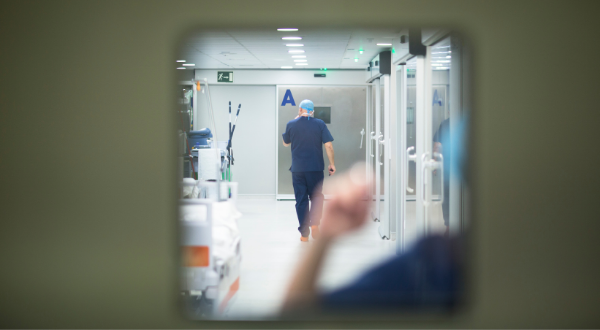 The Neurological Alliance estimates there are now 16.5 million cases of neurological conditions in England alone, meaning 1 in 6 people are living with one or more neurological conditions.
The COVID-19 pandemic has changed many things, including the assumption that a developed healthcare system has ample supplies and an overwhelmingly safe environment for both patients and healthcare providers alike. This pandemic means that hospital resources and supply are no longer secure, which comes with potential risks and increases the challenges for neurologists and patients with neurological conditions.
How has the COVID-19 pandemic impacted neurologic care?

The impact of coronavirus on our health service has been highly documented all over the news, and there's no doubt it has transformed neurological care as we know it.
COVID-19 has led to changes in clinical pathways and means of assessment, with neurologists having to rapidly adapt to new ways of working.
In response to the developing crises, the Association of British Neurologists (ABN) has produced, in cooperation with the Royal College of Physicians and the Chief Medical Office's team, guidance on the risks from a variety of conditions and treatments, which can be found here.
Nonetheless, there is a silver lining in this crisis. Healthcare is known to be resilient to change and whilst treatment for neurological conditions has seen incredible innovations in recent years through the use of telemedicine, the widespread implementation of these services has lagged due to reimbursement issues and technology costs. The COVID-19 pandemic caused the need for direct physical examination and treatment to be minimised, which lead to an inevitable increase in accessing medical telehealth services. Not only can telemedicine allow patients to receive a wider range of services from their physicians without risking infection, but it can also improve accessibility, reduce the need to travel and offer different types of communication devices, ultimately improving patient outcomes.
However, in some cases, making an accurate assessment through virtual platforms of how a neurological condition is affecting a person can be extremely challenging or even pose a significant risk in some cases. For this reason, it's extreme important that the needs and preferences of people with neurological conditions are individual considered when it comes to telemedicine.
How has COVID-19 impacted patients?
Access to mental health support and services has been restricted during the pandemic, but self-isolation, reduced social contact and increased anxiety about the risk of infection led to a significant rise in the need for mental health and support.
Neurological components to COVID-19 have also been highlighted, with symptoms including delirium and confusion. The Neurological Alliance stated that a significant percentage of people with COVID-19 in ITU have neurological symptoms, including being at an increased risk of stroke and functional neurological problems. A study by the Royal College of Psychiatrists also describes a range of neurological and psychiatric complications that may be linked to the virus, whilst experts from the Covid Trauma Response Working Group state that 30% of patients who have been in intensive care in the past had gone on to develop PTSD; suggesting a need for regular check-ups to be carried out for at least a year.
Those who have experienced COVID-19 whilst already living with a neurological condition may have also seen a deterioration in their existing condition. What's more, for people already living with a neurological condition, accessing the right treatment, medicine and support at the right time is key. During COVID-19, this has been seriously disrupted and has had devasting impacts. For some people, this may mean they do not have access to the support needed to help prevent an emergency admission to hospital or early diagnosis.
Whilst neurological health and care professionals have been doing all they possibly can to support their patients, the redeployment of professionals meant that many patients received life-changing diagnostics yet were unable to get any support, had their medical appointments cancelled and saw their important therapies delayed.
Furthermore, many people with neurological conditions were advised to shield but the procedures to identify those most at risk proved unclear and time-consuming for clinicians, which let to delays in people receiving the necessary advice. Whilst the advice to shield has been relaxed in the UK from the 6th of July, people with neurological conditions will now have concerns about the risk this poses to their health and need to be able to access better information in order to access their own personal risk.
What needs to happen now?
The COVID-19 pandemic will end, but exactly how and when is still unclear. When this occurs, we all must take what we have learned from this process and integrate it with the best from our previous systems.
Our health and care services are at the beginning of their task to meet the growing need for both mental and physical health services, as the nation begins its journey of rehabilitation. However, with the right support and leadership from NHS England together with the passion and expertise of the neurological community, it is possible to move to a new and improved 'normal', where people living with a neurological condition are able to get the right treatment and support, no matter what.