18 Oct 2021
Headway Derby launches gallery for brain injury community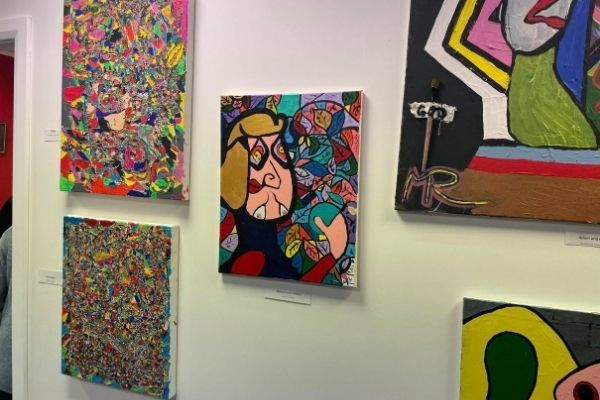 Headway Derby, a local charity supporting people affected by brain injury, has launched a new art gallery showcasing the talent of their brain injury survivor community. On Tuesday 28th September, world renowned artist Paul Cummins MBE formally opened The Lane Gallery at Headway Derby's new premises on Bateman Street.
The Lane Gallery, in Derby, will be showcasing many different artforms created by brain injury survivors who used art to communicate their personal experiences of life during lockdown last year. Paul Cummins officially opened the gallery last month, whose work include Blood Swept Lands and Seas of Red at the Tower of London, which commemorated British and Colonial losses in the First World War with over 800,000 ceramic poppies.
The Lane Gallery will initially feature work from four artists in many different mediums such as abstract, watercolours, sketches, photography, creative writing, graffiti, sculpting and poetry. Paul has previously inspired this group via a virtual session through the charity's Together from Home project, which was launched in March 2020. Paul encouraged the group to be themselves and find an art that flowed for them.
Paul was delighted to see the gallery open and added: "Art is a pure form of communication that brings people together, whatever their background or story. This is a wonderful place where people will be able to communicate through whatever art form works for them uniquely.'
Head injuries are the leading cause of death and disability in people aged 1-40 years in the UK and for those who survive, its effects are not easy to recognise or diagnose. Many brain injury survivors have to develop their own unique communication skills, but art is a great form of self-expression as well as a tool to calm an individual.
The use of art in brain injury therapy has been utilised for many years and Headway Derby have implemented art in the core of everything they do. Headway Derby commented; "As an organisation we know how therapeutic, developmental and fun art can be once you find a medium that connects with you; and immerse yourself in it. Art has the power to engage and connect people in a way that other approaches fall short of; and empowers society to communicate key issues in new and exciting ways." 
Headway Derby has been established for 27 years and they were inspired to launch the gallery due to many of their clients turning to art during the peak of the Covid-19 pandemic. They encouraged their clients to create pieces that would communicate their personal experiences during the lockdown which they mostly communicated through the means of digital and practical resource boxes and materials.
The charity had to completely pivot to a digital transformation, like many companies had to during the pandemic, which has seen the charity grow from 48 clients to over 300 in just over a year.
The launch of the new gallery also pays tribute to the charity's founding chair, Christine Lane, who passed away in 2020 but remained committed to the charity until her death. Rebecca Manship, chief executive of Headway Derby, said: "It is an absolute privilege for Headway Derby to launch this new gallery, and we are delighted to be exhibiting four local grassroots artists in its inaugural exhibition."
"It is well documented that art forms are linked with psychological health benefits, including improved mood, increased levels of well-being, reduced stress levels and less symptoms of depression. This resultant reduction of pressure on statutory services highlights the benefits of expressive and creative activities across the wider society we live in, and helps to increase independent living, confidence, self-esteem and self-identity of those people taking part."
Debra Morris, chair of Headway Derby, added: "Access to exhibition opportunities for survivors of brain injury will provide a whole new dimension to the development of art. We see the impact arts has on the rehabilitation of our members and I am delighted that we can now provide this new facility for the wider brain injury community."