19 Aug 2020
European Neuro Convention - The RCOT Supplier Directory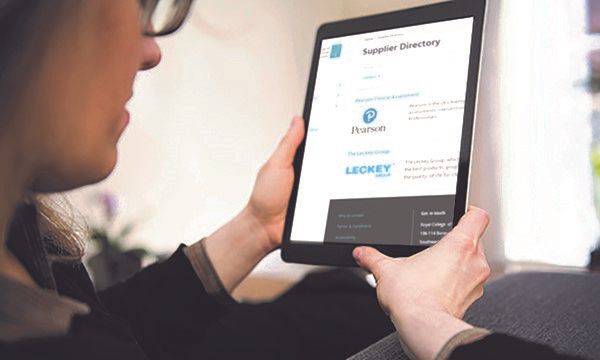 The European Neuro Convention dedicates itself to supporting the neuro community during this testing time. We would like to say a huge thank you to all frontline staff who have been tirelessly working to support the lives of the most vulnerable. We would also like to take this opportunity to express our support for the companies who supply to those working in neuro.
We are pleased to be working with The Royal College of Occupational Therapists (RCOT) in supporting our exhibitors. And encourage our exhibitors to utilise The Royal College of Occupational Therapists Supplier Directory as detailed in their guest blog below:
The RCOT Supplier Directory
'At this time of uncertainty, it's good to feel secure where you can. At the Royal College of Occupational Therapists (RCOT), we offer an exclusive Supplier Directory that showcases the best companies and products helping our members and their clients get the most out of life. We're proud of it and we're good at it.
Our website sees upwards of 220,000 page views per month, and our membership currently exceeds 33,500 members.
A listing on the RCOT Supplier Directory will help target your products and drive more business, increase brand recognition and integrity. You will also be helping our members access the products and services they need to do their work in supporting people to live their lives.
To save valuable time for occupational therapists, our Supplier Directory help you list your product or service under different categories such as catering, clothing, daily aids, furniture, mobility, transport and rehabilitation.
Rehabilitation in particular is fast becoming the priority as people recover from COVID-19. We want our members to procure the best necessary specialist equipment and services. If this is something you can offer, we want to hear from you.
"We had a call from an occupational therapist at a hospice – she was trying to find someone to look at a new bathroom adaptation that one of her clients needed urgently. She had been on the local council website but couldn't find out how to get in touch with the tradespeople, until a colleague suggested she tried the [Supplier] Directory on the RCOT website. Lo and behold, she found our details listed on there and gave us a call. Within 6 weeks, her client was using her new wetroom!" – Eastern Adaptations
As well as your contact information and website links, you can also include product information, testimonials, and links to webinars, podcasts and research your listing.
For ROAR B2B suppliers who want to support the health and care sector, RCOT is offering the following: £260 + VAT for a one-year listing with promo code 'ROAR0920'.

To book or for more information on the RCOT Supplier Directory contact David Agyei, RCOT Sales Manager or call 020 3141 4641.
Find the RCOT Supplier Directory here: rcot.co.uk/suppliers
Ts&Cs: This offer is valid until 5pm on Monday 14 December 2020. No other discounts applied. Offer price saves £40 from full rate price of £300. Offer price £260 plus VAT. Quote promo code "DIR0920''.'