26 Oct 2021
Covid-19, vaccines and neurological issues. What's the link?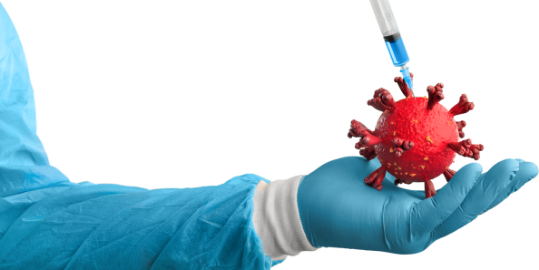 Research from the University of Oxford and the University of Edinburgh has indicated coronavirus is far more likely to cause neurological complications in people than the Covid-19 vaccines, a new study has shown.

Researchers at the universities analysed more than 32 million healthcare records of people in England and found that Guillain-Barre syndrome, Bell's palsy and haemorrhage stroke were linked to both infection and vaccination. The study is featured in Nature Medicine.

Guillain-Barre Syndrome is a condition that causes inflammation of the nerves and can lead to numbness, weakness and pain, usually in the feet, hands and limbs and can spread to the chest and face. For some, the condition can be life-threatening, but it can be treated, and most people will make a full recovery.

The researchers of both universities compared the levels of neurological conditions seen within a month of having a first Covid jab, to those seen within a month of a positive Covid-19 test. A first does of the AstraZeneca and Pfizer vaccine can lead to development of an adverse neurological condition, such as Guillain-Barre syndrome (GBS), shortly after a jab. However, infection from Covid-19 was found to carry a far greater risk of developing a neurological condition.

In the study, following the first dose of the AstraZeneca vaccine, it's estimated that there were 38 excess cases of GBS per 10million people and 60 extra cases of haemorrhagic stroke for every 10 million adults having the Pfizer vaccine. In comparison, for people who had a coronavirus infection, there were 145 extra cases of GBS per 10 million with a positive test, 123 extra brain inflammation disorder cases like encephalitis meningitis and myelitis per 10 million people and 163 extra cases of myasthenia-like disorder per 10 million people.

Dr Lahiru Handunnetthi, a co-author of the study, said: "In our study of over 32 million people, we found that several neurological complications such as Guillain-Barre syndrome were linked to both Covid-19 infection and first dose vaccination. These neurological complications were very rare, but awareness of these will be important for patient care during mass vaccination programmes across the world."

It's still unclear why these links appear. When the researchers in Scotland ran the same study on a smaller population of vaccinated adults, they found the same link with GBS and the AstraZeneca vaccine but did not see the same pattern of increased risks with the Pfizer jab. Thus, complicating their findings.

More research and studies need to take place to understand the links better. Prof Julia Hippisley-Cox, from the University of Oxford, said: "The really big message from this is these are very rare neurological events that might be associated with the vaccine. But there is overwhelming evidence of the effectiveness of the vaccine against serious illness."

Julia works as a GP and she encourages people to take the vaccine to protect the population: "We want to make sure people are taking up the vaccine and booster jabs, and by doing that we will protect the health of the nation in the best way we can."